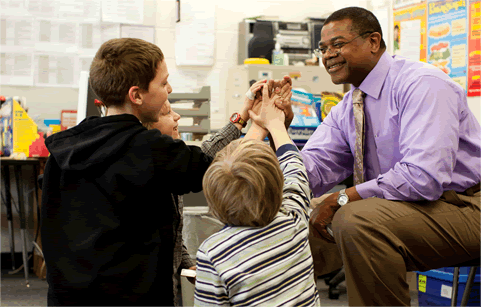 Science Teacher Jobs
From the morning bus ride until the last activity of the night, more than 34,000 students grow and learn with Minneapolis Public Schools every day. We promise an inspirational education experience in a safe, welcoming environment for all diverse learners to acquire the tools and skills necessary to confidently engage in the global community.
Why apply for Science Teacher Jobs with Minneapolis Public Schools? Focused Instruction is one of MPS' key strategies for raising the achievement of all students, closing the achievement gap and preparing students for college and careers.
MPS staff members are experts at helping students with unique challenges develop to their fullest potential. Our teachers are dedicated, passionate and committed to closing the achievement gap and raising the bar for all students.
Click on the "e-mail jobs to me" link below and tell us about yourself, and we'll keep you informed about upcoming Science Teacher Jobs with Minneapolis Public Schools that match your interests.

There are currently no open positions matching this category or location.
Receive emails by subscribing to jobs matching Science Teacher Jobs when they are posted.
The 10 most recent jobs posted by Minneapolis Public Schools are listed below for your convenience.
Results 1 – 10 of 10
Page 1 of 1
Search results for "".
Title
Department
Facility
Job Type
Post Date
Food Service Coordinator II, Floaters (2019-2020 SY)

Culinary & Wellness Services (CWS) (10000079)

Citywide School Support (0002)

Food Service

Dec 8, 2019

Onsite Food Service Coordinators (2019-2020 SY)

CWS, Site Operations (10001075)

Nutrition Center (0782)

Food Service

Dec 8, 2019

Bus Aid

Transportation (10000103)

Transportation (0750)

Drivers

Dec 8, 2019

Bus Aid

Transportation (10000103)

Transportation (0750)

Drivers

Dec 8, 2019

Special Education Assistant - Autism (ASD) 1:1 - Jefferson

Jefferson Elementary (10000040)

Jefferson (0179)

Paraprofessional

Dec 8, 2019

Bus Aid

Transportation (10000103)

Transportation (0750)

Drivers

Dec 8, 2019

Bus Aid

Transportation (10000103)

Transportation (0750)

Drivers

Dec 8, 2019

Special Education Assistant - Autism (ASD) - Burroughs

Burroughs (10000014)

Burroughs (0110)

Paraprofessional

Dec 7, 2019

Associate Educator - Classroom Support -Sanford Middle

Sanford Middle School (10000091)

Sanford (0324)

Paraprofessional

Dec 7, 2019

Special Education Assistant - Roosevelt High School (19-20 SY)

Roosevelt High (10000090)

Roosevelt (0360)

Paraprofessional

Dec 7, 2019