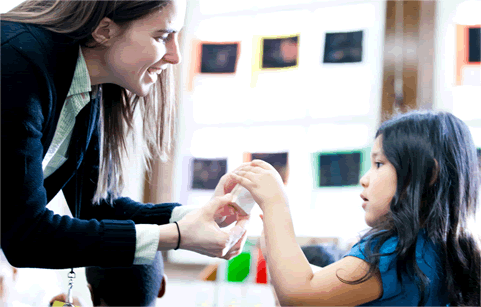 Food Service Jobs
From the morning bus ride until the last activity of the night, more than 34,000 students grow and learn with Minneapolis Public Schools every day. We promise an inspirational education experience in a safe, welcoming environment for all diverse learners to acquire the tools and skills necessary to confidently engage in the global community.
Why apply for Food Service Jobs with Minneapolis Public Schools? The Nutrition and Culinary Center is committed to provide healthy food choices within USDA guidelines, offer foods that are fresh, of high quality and minimally processed, increase whole foods, natural fibers and other natural ingredients. We are also committed to decreasing saturated fats, added sugars and starchy vegetables. Teaching lifelong proper eating habits that reinforce the belief of moderate consumption in all food groups is also one of our commitments.
MPS staff members are experts at helping students with unique challenges develop to their fullest potential. Our teachers are dedicated, passionate and committed to closing the achievement gap and raising the bar for all students.
Click on the "e-mail jobs to me" link below and tell us about yourself, and we'll keep you informed about upcoming Food Service Jobs with Minneapolis Public Schools that match your interests.
Results 1 – 17 of 17
Page 1 of 1
Search results for "".
Title
Department
Facility
Job Type
Post Date
Food Service Assistant, Emerson I

CWS, Site Group 3 - Central West (10001114)

Emerson (0260)

Food Service

Nov 28, 2023

Food Service Assistant, Andersen II

CWS, Site Group 4 - Central East (10001115)

Andersen (0190)

Food Service

Nov 22, 2023

Candidate Pool (SY 2023-2024), Food Service Coordinator, Senior

Culinary & Wellness Services (CWS) (10000079)

Citywide School Support (0002)

Food Service

Nov 22, 2023

Food Service Coordinator, Senior - Sullivan

CWS, Site Group 1 - Northwest (10001112)

Sullivan (0193)

Food Service

Nov 21, 2023

Candidate Pool (SY 2023-2024), School Cook

Culinary & Wellness Services (CWS) (10000079)

Citywide School Support (0002)

Food Service

Nov 19, 2023

Onsite Food Service Coordinator - Hmong Academy

CWS, Site Group 1 - Northwest (10001112)

Hmong International Academy (0291)

Food Service

Nov 18, 2023

Candidate Pool (SY 2023-2024), Onsite Food Service Coordinator

Culinary & Wellness Services (CWS) (10000079)

Citywide School Support (0002)

Food Service

Nov 17, 2023

Onsite Food Service Coordinator - Burroughs

CWS, Site Group 5 - Southwest (10001116)

Burroughs (0110)

Food Service

Nov 17, 2023

School Cook, Burroughs

CWS, Site Group 5 - Southwest (10001116)

Burroughs (0110)

Food Service

Nov 14, 2023

School Cook, Lake Harriet Lower

CWS, Site Group 3 - Central West (10001114)

Lake Harriet Lower (0104)

Food Service

Nov 14, 2023

School Cook, Washburn

CWS, Site Group 5 - Southwest (10001116)

Washburn (0368)

Food Service

Nov 14, 2023

Coordinator, Food Safety & Quality Assurance, Nutrition Center II

CWS, Culinary Operations (10001107)

Nutrition Center (0782)

Administrative

Nov 13, 2023

Food Service Assistant, Edison

CWS, Site Group 2 - Northeast (10001113)

Edison (0352)

Food Service

Nov 13, 2023

Candidate Pool (SY 2023-2024), Food Service Assistant

Culinary & Wellness Services (CWS) (10000079)

Citywide School Support (0002)

Food Service

Nov 12, 2023

Catering and Retail Cook - Davis Center II

CWS, Business Operations (10001106)

Davis Center (0001)

Food Service

Nov 10, 2023

Food Service Assistant, Seward

CWS, Site Group 4 - Central East (10001115)

Seward (0160)

Food Service

Nov 9, 2023

Onsite Food Service Coordinator - Hiawatha

CWS, Site Group 6 - Southeast (10001117)

Hiawatha (0130)

Food Service

Nov 9, 2023
Results 1 – 17 of 17
Page 1 of 1